President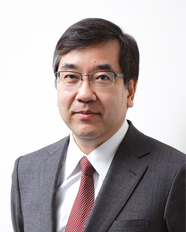 Makoto Gonokami
President
In an increasingly complex global environment, the responsibility of universities to contribute to the stable progress of humankind has become greater than ever. The University of Tokyo, through the synergy of excellence and diversity, aims at the construction of a Global Base for Knowledge Collaboration. We are working on four fields: Research, Education, Cooperation with Society, and Operations.
In the field of education, we aim at training students to become independent-minded Knowledge Professionals who act with the public interest in mind and strive at the creation of new value. The Program for Leading Graduate Schools, as part of the initiative, will train talented people so that they can resolutely pursue efforts to create new knowledge, actively take part in dialogues and collaborations with individuals from different areas of study and cultures, and use the knowledge they have gained to give back to society through their independent actions.
The Graduate Program for Leaders in Life Innovation (GPLLI), in the era of aging and declining population, aims at the development of people who can contribute to the realization of life innovation by building advanced medical development systems for the purpose of prevention, diagnosis and cure. These will be grounded in life science and its diverse peripheral fields.
Under this clear principle, this well-balanced and broad program offers leadership training, beyond conventional educational research to graduate students in the graduate schools of Medicine, Engineering, Pharmaceutical Sciences and Sciences. The program has created specific development paths through the guidance of experienced and diverse faculty to stimulate students within its privileged research environment. This includes the evaluation of qualities required of leaders, and interactions with different cohorts, that can help facilitate personal career and development paths for our students. We are confident that GPLLI can contribute greatly to the continuous development of individuals equipped with the abilities, character and insights required for future international leaders. We look forward to your understanding of, and active support for, this innovative graduate school initiative.