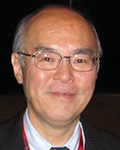 First, I would like to express my appreciation for giving our university an opportunity to sponsor the the 4th International Congress and the 70th Annual Meeting of the Japanese Orthodontic Society to be held at the Nagoya Congress Center. All staff members consider it a great honor to be given the responsibility of administering such an important meeting.
This meeting is designed to examine the present status and ideal future of orthodontic therapy. Under the theme of "Orthodontic Quality – Aiming for the perfect smile," a keynote speech, special lectures, and symposiums will be offered.
Staff members are now making every effort to meet your expectations. We will inform you of details of the meeting on the Society's website and in other media immediately after they are fixed.
Nagoya, the venue of the meeting, is conveniently located in the center of Japan with abundant transportation facilities. In our hope that the conference attracts many participants from Japan and overseas, we look forward to seeing you in Nagoya.
The 4th International Congrss&
The 70th Annual Meeting of the Japanese Orthodontic Society
Chairperson General Shigemi Goto