gPlant Morphologyg
gPlant Morphologyg (ISSN 0918-9726), is an open access journal published by the society including both English and Japanese articles.
Plant morphology publishes significant review papers and peer-reviewed papers of interest to a wide audience of scientists in plant morphology (micro- and macro-structure, function, development), all levels of organization (molecular to macro-structure), and all plant groups and allied organisms (cyanobacteria, algae, fungi, and lichens). The manuscripts relevant to the journalfs aim are expected to be submitted online by e-mails (One of authors should be a member of JSPM).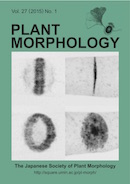 Link to the website of gJ-Stageh. Abstracts and full texts of all papers of the journal are available in the linked website.@
For submission of papers to Plant morphology, contact the Editor-in-chief.
Editor-in-Chief: Ichiro Karahara
Contact Address:
Graduate School of Science and Engineering for Education (Science), Toyama University 3190 Gofuku, Toyama-shi, Toyama 930-8555, Japan
Tel: +44-76-445-6630
Fax: +44-76-445-6549
Email: karaharasci.u-toyama.ac.jp (Change into @ when you send a Email)