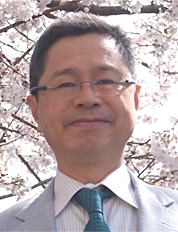 Kazuhiro Ikenaka, Ph.D.
Professor
Neurons communicate with one another by forming neuronal circuits (NCs), which play a major role in expressing the brain function. Our brain also contains other cell types that are collectively called glia. Glial cells also communicate with one another and form glial circuits (GCs). Communication among neurons and that among glial cells are intrinsically different: glial communication being much slower and more gradual than neuronal communication. Long-range communication by glial cells often covers a macroscopic brain area, interacts with and affects the activity of NC. Moreover, activity of this GC can be observed in the absence of neuronal activity, and thereby, is (at least partially) neuronal activity independent. We, therefore, believe that this gigantic GC controls the brain function. We named this gigantic GC as "Glial assembly" and will clarify:
How the glial assembly is formed.
How they control the brain function.
How abnormalities in glial assembly are related to the pathophysiology of neuropsychiatric disorders. (We will call neuropsychiatric diseases that are caused by glial abnormality, "Glial disease".)
Our team (12 planned research groups & 19 Publicly offered research groups) is composed of researchers from various fields, including molecular biology, physiology, anatomy, pharmacology, imaging, psychiatry and neurology, which makes our team special and unique. We are convinced that after 5 years of research we have a deep understanding on the function of glial assembly that will help us to identify and treat many of the glial diseases.
Kazuhiro Ikenaka, Ph.D.
Professor
National Institute for Physiological Sciences
Principal Investigator of "Glial Assembly"