Church Boat in Ratvik
---
Ratvik is a small town in Dalarna region. Here, the traditional church boat can be seen. On the morning of the Midsummer Day, people go to church by rawing boat. This is quite impressive for me, because it tells how collective the Swedish society used to be, unlike today's society dominated by individualism.
Boats from each village heads for the church.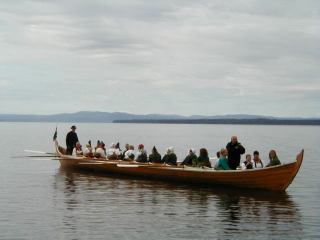 People aboard are dressed in traditional clothes.
Just before they arrive the pier beside the church, they let the oars stand upright.
Then, people goes into the church to attend the Midsummer Service.
Please also see the movie I took.
---
Back to Top Page
Copyright (C) 2002, Takashi Murata, All rights reserved